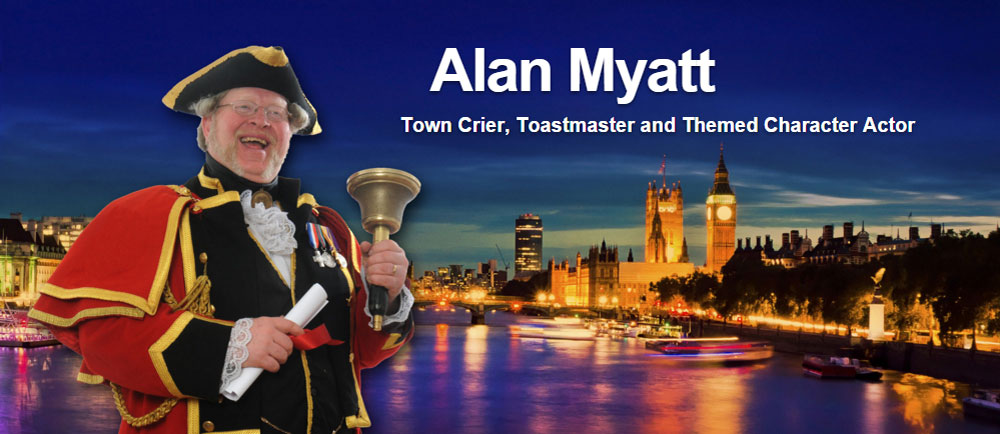 Introducing Alan Myatt
Alan Myatt is Town Crier to the City of London's world-famous Stables Market and to the Covent Garden Area Trust, Town Crier to the City of Gloucester and the market town of Hitchin, world-record holder and one of the UK's best loved themed character actors. If you're planning an event or special promotion and want to make it truly memorable, give Alan a call. He's got a character for every season!
Choose Alan Myatt For All Kinds of Events
Alan's experience in the business world is extensive. He's been commissioned by companies throughout the UK and internationally, including many of the big names in retail such as House of Fraser, Marks & Spencers, Asda and TK Maxx.
Alan has helped thousands of families celebrate special events, giving them memories that last a lifetime. He is consistently calm under pressure and can be discreet and tactful, ebullient and extrovert – whatever the occasion demands.
Alan has a wealth of experience working at high profile events, both civic and royal, so has an excellent understanding of the relevant etiquette and protocol needed to ensure everything runs smoothly and seamlessly.
Alan's worked at some of the biggest extravaganzas… and some of the smallest community events. Whether your event is aimed at raising money, increasing your profile, or simply having fun, Alan will help you achieve your objectives.
Alan is a seasoned Parade Marshall, great at warming up the crowds before an event – with balloon modelling, mixing and mingling or handing out leaflets to drum up excitement.
The Latest News From Alan's Blog
As you can imagine, a large part of my job is meeting and greeting […]
Well, well, well, just like that it's 2022! I've had a busy ol' Christmas […]
As the world starts to open up again, I'm excited to take on more […]
We have been using Alan's services for more than 20 years. His blend of humour, charm and commercial awareness means he has become an invaluable part of our marketing programme. I plan to keep using Alan's talent and skill for many years to come.

Peter Hawkins,

Hawkins of Hitchin
We have worked with Alan for many years and he has always provided a professional performance whether as a town crier, toastmaster or costumed character. He is a great performer who gives his all at every event he attends.

The Daubney Agency,

Chesterfield Entertainment Specialists