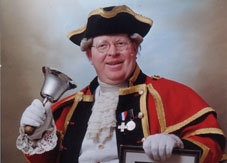 Recent News...
New Testimonials Booklet
I've worked with some wonderful people over the years and many of them have been good enough to write and thank me for my services. I've now compiled some of their comments into a testimonials booklet which can be downloaded here (2.5mb, PDF). I'm really chuffed with how it looks and I hope you enjoy looking through it too.
At Camden Lock Market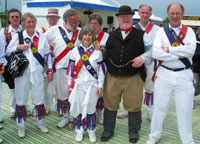 Towpath Ted, one of Alan's latest creations, took to the canalside recently to meet and greet visitors to the Camden Lock Village Canal Market... and he certainly proved popular with the crowd.
A Profile of Alan Myatt
---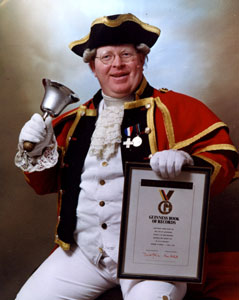 In 2008, Alan celebrated 20 years as a Town Crier, Toastmaster and Master of Ceremonies. Over the years he has worked throughout the UK and overseas, taking his own special cast of characters and charisma and entertaining VIPs and children, launching festivals and galas, and promoting companies and charities.
World Record Holder
At 112.8 decibels, Alan's cry of 'Oyez, Oyez, Oyez' is the undisputed world record, a feat which has been verified by the Guinness Book of Records and confirms Alan's true place in history. He also set the world record for vocal endurance, issuing a one-hundred word proclamation every 15 minutes for a period of 48 hours.
Media and Celebrity
Alan has made numerous TV appearances including Trouble at the Top, Challenge Anneka, and You've Been Framed. He's been interviewed by the BBC World Service, the Radio 4 Today Programme, plus many other national and regional news programmes. Among the celebrities he's worked with are Graham Gooch, Tom O'Connor, Roy Castle, Boy George and the team from Ready, Steady, Cook, plus several of the stars from Coronation Street and Emmerdale.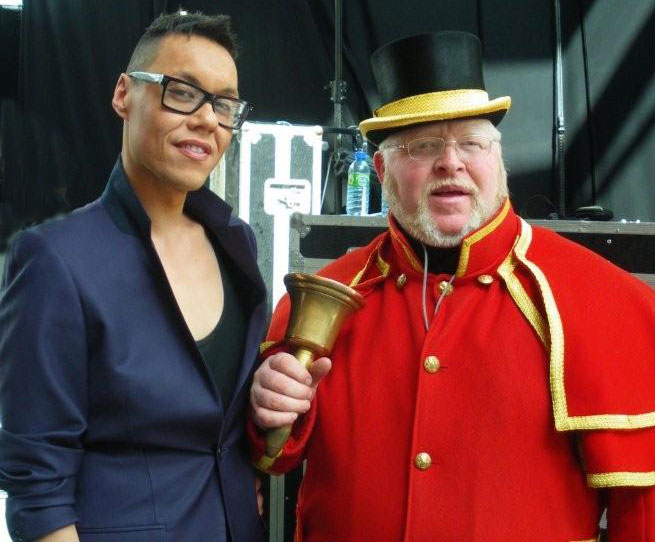 High Profile Events
Alan is well respected throughout the industry for the showmanship and experience he brings to all events, whatever their size. He's worked with several members of the Royal Family over the years, including the Queen, and he was elected to attend the Meetings & Incentive Travel Industry Awards Gala Presentation in front of HRH, The Princess Royal at the Grosvenor House Hotel in London.
He's worked with Max Clifford and was commissioned to appear at the World Heavyweight Boxing Championships at Cardiff Castle (Lennox Lewis v Frank Bruno). He even made an appearance as Town Crier on the Christmas Eve Lotto Superdraw.
Find Out More
If you'd like to find out more about Alan's range of characters and services, then get in touch.